Utilizing Business Continuity Management Software Within Your Program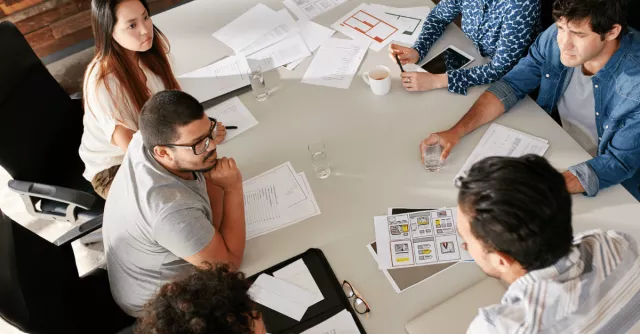 Predicting what comes next for your business is impossible, but planning for it isn't. That's why investing in a solid business continuity plan and business continuity management is essential for keeping your business healthy and ensuring its resilience. 
While it may be evident that business continuity is vital for protecting your interests, it can be challenging to know where to start. That's where business continuity management (BCM) software comes in. 
BCM software is a great way to make sure you're making the most of your business impact analysis (BIA). It helps keep everything organized, accurate, and efficient. 
Unsure of where to start? Read on to learn more about business continuity software and how it can help you stay on track with your business continuity planning. 
How Does Continuity Software Help With Business Continuity Planning? 
Business continuity management depends on the details for many different scenarios, but keeping track of them manually can be a difficult task. That's why investing in BCM software is an industry best practice. 
Instead of forcing you to build a system from scratch or remember everything on your own, continuity software guides you through the BCM life cycle and helps to ensure that you're keeping your business response plan up to compliance code. 
What is the BCM Life Cycle? 
Six parts of the BCM life cycle are generally agreed upon across the industry. They are: 
Understand the company/organization 
Create a policy/structure for program management
Develop a response plan for potential scenarios 
Test that plan
Maintain the plan and review as necessary to ensure compliance 
Create a BCM culture inside the company/organization 
This is quite the undertaking, even with one scenario. But when you start to look at the many different response plans you'll need to have in place, the benefits of having a system that allows you to access documents and records and log your plans easily becomes increasingly apparent. 
Using Management Software for Business Continuity  
Seeing the benefits of using business software to guide your response planning efforts is one thing, but knowing how to implement and utilize this technology is another. If you don't already have a system in place, you might be wondering where you should start. We'll break down how to use this software in each step of the BCM life cycle below.  
Understanding The Company/Organization 
In this part of the BCM life cycle, you'll need to take a deep dive into the company's standard operating procedures (SOPs) to understand how it functions and what the risks are for each planned scenario. Conducting a BIA is a great way to make sense of all these details. 
Once you've reviewed the SOPs and have an idea of the impact of each scenario you plan for (fires, earthquakes, epidemics, etc.), you'll need to record your findings. You can easily do this by using a tool like Preparis, which allows you to keep all of your essential documents and reports in one place. 
Create a Policy/Structure for Program Management
Now that you've taken care of the research and understand the inner workings of your company better, it's time to use the information you acquired from the business impact analysis to put a plan together. To do this, you'll need a comprehensive software program like RecoveryPlanner. 
These programs allow you to stay within budget by cutting out the costs of consultants and labor of an extensive BCM team. They allow you to focus on drafting your plan and getting feedback and buy-in from the other departments with whom you'll need to coordinate. 
When starting your business continuity plan, you can use BCM software to set up SOPs for the overall project and each department you need feedback from. Once you have the general structure in place, BCM software will help you streamline the rest of the process. 
Develop a Response Plan for Specific Scenarios 
This step of the life cycle is what most people think of when they hear "business continuity." It's all about developing specific response plans to all of the scenarios you need to plan for. 
BCM software helps you put all of your BCM response plans in one place and ensure your teams have all the necessary information in case of an unexpected event. You'll also be able to assign specific tasks to different team leads and departments, which can help encourage more participation (and support) from the executive-level teams.
When an incident arises and your team needs to respond, you'll be able to use a program like Preparis Incident Manager to keep an eye on the plan's progress and what still needs to be done. Our intuitive dashboards make it easy to appraise the situation at a glance, so you don't have to waste valuable time checking in with each department or team and making sure they're on track. 
Test Your Plan 
Developing a detailed response plan isn't enough. You'll also need to periodically test your plan to ensure there aren't any gaps in your strategy and your team can follow the plan and communicate effectively.
Several important aspects need to be considered when testing your response plan. However, one of the most important is making sure your team receives alerts promptly. 
With Preparis Alerts, you can ensure that your employees are getting notifications as quickly as possible. Our system also has the bonus of bi-directional communication. In the event of a natural disaster like an earthquake or fire, your employees will be able to respond to your alert and let you know that they're safe. 
You can send these communications through any communication platform your company uses, which helps to lower the amount of time it takes to get your employees informed and up to date. 
Maintain the Plan and Renew it as Necessary 
Once you've put your plan together and tested it to make sure you've covered all the necessary information, you'll still need to allow time for reviewing and updating the plan to make sure you're staying in line with compliance and industry best practices. 
Preparis' software will alert you to procedures that need to be reviewed, eliminating the need to conduct manual checks. You'll be able to use that time to focus on building out more policies and procedures or training your staff on the response plans that have already been approved for use. 
While the bulk of the planning will still fall on the BCM department, you can help increase the participation of other employees by assigning them tasks that encourage them to stay on top of their role in a response plan. It can be as simple as reminding them to update or confirm certain information annually or a more in-depth review of certain policies and procedures. You can also delegate specific tasks to other departments or team leads. 
Creating a Business Continuity Culture 
Once you've gotten your BCM plans into place, you still need to make sure your company is ready to interact with any surprises that might be thrown your way. That's why it's crucial to implement a culture of business continuity in your company. 
While this can include training for your response plans (think fire and tornado drills), these activities shouldn't be limited. You should encourage your team to interact with the BCM plan as much as possible to ensure that they're familiar with company procedures and will be ready to act at any time. 
In addition to assigning your employees certain tasks that encourage them to interact with their specific role more, you can use the many insights that Preparis tracks to share visual data regarding the company's risk for exposure or wins and improvements that have been made. 
You can filter these insights by department or team members to see their work's direct impact on keeping the company protected and use them in quarterly updates to celebrate their hard work. 
Make Sure Your Company Is Protected
Creating and maintaining a plan for business continuity is challenging, but you don't have to do it alone. Preparis has many resources that help to ensure the preparedness and protection of your company, no matter what risks you face. 
Do you want to learn more about how Preparis can help keep your company protected? Contact us today to learn more about our technology!