3 Ways Winter Weather Can Disrupt Business Continuity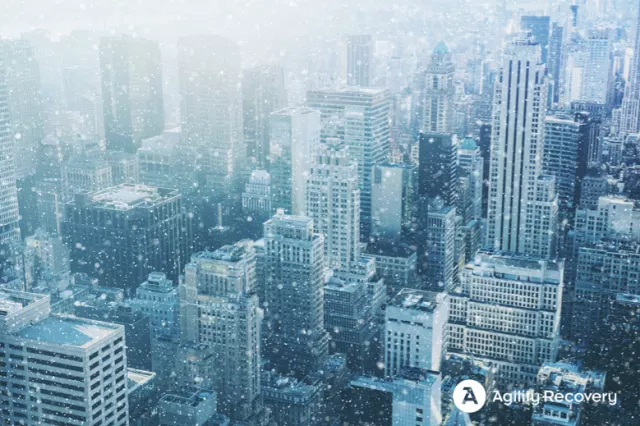 When another blizzard takes over the headlines, most people are worried about cold temperatures. Business continuity pros, however, stay focused on the potential impact of severe winter on business operations and how it can disrupt business continuity of their organizations and affect workforce safety. In 2018 alone, natural disasters caused $160 billion in damage, and the number is projected to climb by the end of 2019.
Extreme weather conditions such as extended cold temperatures and frequent and intense winter storms can easily disrupt any business operations, and without a proper plan, an organization can endure a lot of damages.
As the risks for business interruption during winter months significantly increase, so does the possibility for mistakes: making it mandatory for employees to commute to work in unsafe conditions or being unable to communicate with your workforce promptly. It's impossible to control the weather, but you can lighten its impact through proper preparation and communication before, during, and after severe winter weather hits your region. Consider the following three common winter weather mistakes.
Lack of Emergency and Contingency Planning
An assembled team that's ready to respond to weather-related emergencies is an essential part of securing success. To help document roles and responsibilities, a business continuity plan can clearly define who takes what action in an emergency. Assigning roles and coordinating actions as winter weather breaks will affect the rapid and effective response. Providing the team with the tools they need to handle the emergency is another reason for success. A smart way to start is with a reliable way to communicate when landlines are down.
Winter weather emergency plans should also cover contingencies, depending on the severity of the coming storm. Such a plan needs to include protocols for determining when the business should close, coordination of whether employees continue their work, and how. Also, the plan needs to detail snow removal from the organization's buildings and whether the building has all the necessary equipment, such as a backup generator and fuel.
To avoid delayed storm response, establish a dedicated channel of communication, such as through the emergency messaging tool, and individual(s) who send notifications. It will help to eliminate confusion within the team, and it will significantly reduce the time to update the stakeholders.
Failure to Prepare for Supply Chain Resilience
Regardless of the size, an organization can have a myriad of suppliers. If the range of transactions is vast, it becomes difficult to track the activity, limiting the ability to manage supplier risk. With poor visibility of risk areas and their potential impact, the number of threats can grow—from decreased revenue, inflated costs, to undermined credibility with both investors and stakeholders. So how do you strengthen these weaker areas within your supply chain?
Tim Mathews, a D.Sc., MBA, MBCI, believes that testing your business continuity plan, and inquiring your suppliers about the relevancy of theirs, helps to manage a diverse risk portfolio. Evaluating whether your suppliers check out on all critical aspects, such as planning, alternative locations, testing, and compliance, will help you improve your company's resiliency. Tim Mathews also stressed out that it's essential for suppliers' plans to be specific to their particular industry, and not have a generic plan instead.
Why are companies still faced with challenges resulting from supply chain interruption?
First, supply chains have become more convoluted. With globalization, the business has no borders, which leads to loss of control and a lack of visibility into supply chains. Second, sometimes, leadership decides to take risks until disruption interferes. Many businesses get fixated on making their supply chains lean by wringing out redundancy, hiring lowest-cost labor, and keeping inventory low. Resilience, by comparison, isn't free. However, it's high on any CFO's priority list, which includes business continuity, shareholder value, and how the company performs overall.
Another point worth mentioning is the precariousness of relying on a singular supplier. Diversification can help safeguard operations and minimize the possibility of disruption.
One way a business continuity professional can get closer to identifying the most severe financial risks is to perform a business impact analysis (BIA), covering your operations and entire extended supply chain. Such analysis also imitates worst-case scenarios and lays out potential solutions to decrease your exposures.
A complete business impact analysis consists of three segments:
A business model analysis that estimates the vulnerabilities of your vital processes, such as suppliers, operations and information systems, and the exposure they pose.
A financial report that details the business revenue dependent on these critical suppliers and processes.
A risk analysis that applies planning data to any potential weak areas. This step is valued by CFOs who want to make informed decisions.
According to FM Global's Resilience Index that ranks a country's ability to endure supply chain disruption and recuperate quickly, ranked Switzerland as the most resilient nation. The U.S. scored lower (The Midwest ranking number seven, and West Coast is taking the 21st place), but still showed good results. The reason for such a significant difference in rankings among the U.S. regions is the varying exposure to natural disasters and hazards. The main takeaway from these numbers is to consider what criteria make any operation resilient, including natural disasters, and to balance these imperatives with controlling costs or other business needs. Taking such an approach helps to understand better why resilience matters to business performance at least as much as cost containment does, and how resilience is best achieved.
Inadequate Communication
Severe winter weather can disrupt internal networks and various forms of communications at once, and may not necessarily happen during regular business hours. That's why it's important to send out alerts to different devices and via a variety of channels to make sure everyone in the organization is aware of the situation. Organizations that don't have any incident management tools rely on call trees or email. While such an approach can work for a small group, most businesses need to communicate with larger teams.
However, communication implies feedback. A notification system with a two-way messaging functionality allows precise identification of an individual who may not be safe in a crisis. It also drives accurate analysis and helps to make the right decision faster, especially when safety is a concern. Additionally, two-way software platforms offer a more in-depth check on the relevancy of your workforce's contact information, allowing you to reach out again in case the response confirmed the person is in danger or if an employee didn't reply at all.
Winter storms can often bring extremely cold temperatures and knock out heat, power, and communication services. Simply staying warm during periods of extreme cold can be a challenge if you are unprepared, and there is no infrastructure to assist your area. In addition to service disruptions, winter weather can thwart service restoration because roads may be blocked by deep snow, and icy conditions may add to the difficulties of travel.