Preparing for Wildfire Season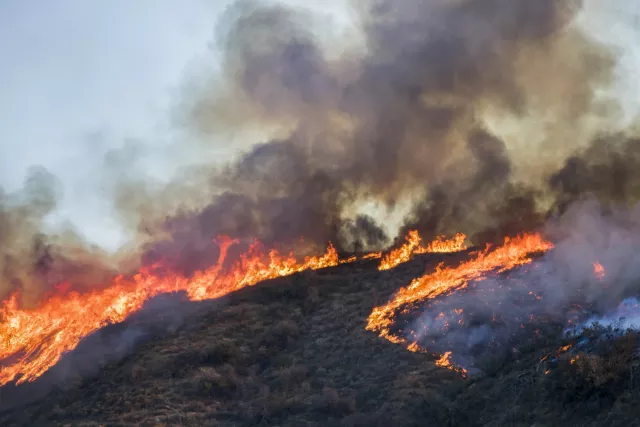 A wildfire is a daunting threat. Each wildfire season sees an average of more than 70,000 wildfires burning across seven million acres, cutting through urban and rural areas alike.  
You must prepare your business and office space for a fire and keep you and your employees safe.  
What is the forecast for the 2021 wildfire season? How should you prepare your employees and your business operation for such a disaster? What should evacuation drills look like, and how should you respond to a fire as it occurs? Are you prepared with backup power and DRaaS solutions if your office is impacted? 
Answer these questions, and you can keep your business safe and functioning during the wildfire season. Here is your quick guide.  
Understand the Forecast  
The National Interagency Fire Center (NIFC) has prepared forecasts for the 2021 wildfire season. However, remember that forecasts are speculative. Circumstances can change, so you should follow the news and remain in contact with your local fire authority.  
The NIFC's June 1 forecast notes that 87% of the West is in a drought, making the potential for a wildfire significant for the Pacific Coast and Great Basin states. In particular, the rural areas of California and Washington are at high risk.  
But Idaho, Montana, and Wyoming have higher than average fire potential. This risk extends into August. The eastern United States does not have significant potential, but fires can still occur.  
Monsoons will arrive toward the middle of the summer, which may decrease the potential for wildfires in certain areas. But the effects of monsoons may be temporary, leaving large areas of the country vulnerable.  
Prioritize Disaster Preparedness  
If you are in a high-risk area, disaster preparedness needs to be your priority. You should ask a fire inspector to check your property and the surrounding areas.  
Put 10 feet of space between your office building and vegetation. Remove any dead plants and maintain your live ones with a lot of water and prune any branches that get close to the building.  
Buy emergency kits stocked with first aid supplies and tools like fire blankets and place them in all major areas. Everyone should be within 20 feet of an emergency kit. 
Check that your fire extinguishers and smoke detectors are working. Then, have a firefighter come in and demonstrate how to put out a fire and respond to an alarm.  
Call an all-hands meeting and talk about wildfire safety. Brief your employees on what the risks are and what you are doing to keep them safe.  
Discuss Organizational Resilience and Business Continuity 
Convene meetings with your senior staffers and board of directors. Go over what you will do in the event of a wildfire that damages or destroys your building and find software that helps with business continuity planning.  
You may need to go to remote options so your employees can work. Figure out how you will conduct remote business operations.   
Draft a chain of succession in case a senior employee is incapacitated. This may sound morbid, but planning out all contingencies will keep your company running if an emergency happens.  
Many of your employees may be concerned about wildfires and may have gone through traumatic experiences with fires. 
Give your employees precise details on the policies you are putting in place to keep them safe. Show them the space you are clearing around the building and demonstrate how you can put out fires.  
Let every employee know that they can go to their family if a fire is approaching their house, and give them time off to prepare at their home for a fire.  
Practice an Emergency Response  
Employees should practice how to treat burns, put out small fires, and evacuate the building. You should schedule a fire drill at least once a month during the wildfire season and, if you are in a high-risk area, you may want to do two a month.  
Practice all necessary skills through tabletop exercises. After completing the drills, go over what people did right and wrong. Then, point to employees who did something right and ask them to demonstrate what they did.  
You should have multiple evacuation routes out of a building avoiding areas where a fire could spread, like dry fields. At least one way should go to a public shelter that can accommodate your workers.  
As you rehearse throughout the summer, ask employees to go to different routes. If they go to the same route every time, they may not be able to adapt if it becomes inaccessible.  
Respond to a Wildfire 
A wildfire can occur at any time, including at night. Be vigilant. 
Follow your local news and weather station, and keep a personal work computer with incident management software.  
If a fire is approaching your office, do not go to it. Instead, call the building and start an evacuation of everyone inside. 
Call your local fire department and tell them that you are evacuating. Then, remain in touch with the people who are leaving and get confirmation that everyone has left. You can also use emergency two-way communications with anyone in a specified area to make sure that they are safe. 
If you cannot evacuate your building, remove flammable substances from the windows like plastic blinds. Move furniture away, but leave room for firefighters to navigate through the building.  
Wet down surfaces with water, including flooring. Get low to the ground and move to the lowest level of your building.  
When the fire passes, you should wait for the fire department's permission before returning to the office. Document all your damaged property with photographs and written descriptions. Investigate the fire and make changes to your safety policies. 
Give your employees time to recover and cope, especially if they were injured. Open your office again when everyone is ready to return to work, and if you can't open your office, explore other options for workplace recovery. 
Get the Solutions Your Business Needs 
A wildfire can devastate your business. With so much drought in the western United States, a fire can occur in any Pacific Coast or Great Basin community. But, with proper preparation, you can respond quickly and keep your employees safe and your business operational.   
Don't let a disaster disrupt your business. Preparis offers solutions for emergencies. Get a free demo today.