Tailor-Made Continuity Plans for Your Organization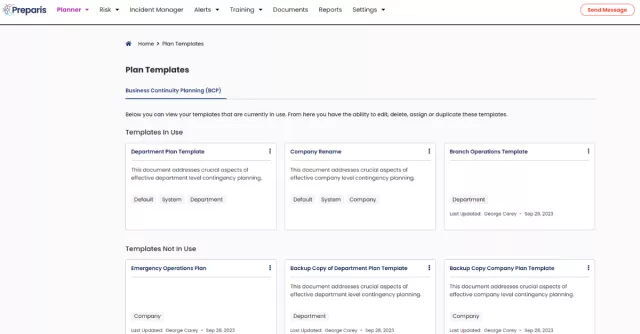 We created Preparis Planner with one goal in mind: Make continuity planning accessible (and affordable) for all organizations, no matter their size, industry, or staffing. 
Since Planner's inception, we've continued to build an entire suite for continuity program management with planning, alerts, and incident management functionality baked into one platform – all while making it even more robust, user friendly, and comprehensive. We launched Incident Manager (including Exercise Manager), allowing you to put your plans into action quickly as well as exercise them before an incident occurs. More recently, we introduced a risk assessment tool to streamline performing risk assessments ahead of business impact analyses. 
Now, with Planner's newest feature, Plan Builder, we're continuing our mission in response to your feedback. Planner users can now swiftly generate plans that reduce losses and streamline recovery during a crisis. Start quickly and customize your plans to suit your specific needs and provide your team with tailored plans for your organization and industry. Say goodbye to complex and static plans – Planner puts you in control of your crisis management plans with simplicity and effectiveness. 
Plan Builder was created based on your feedback and requests. We understand the need to customize plans to meet auditors' requirements and guidelines, respond to requests from internal stakeholders and auditors, fine-tune and improve plans based on tests and incidents, and create and manage multiple plan types – all within one platform. 
In addition to risk assessments, business impact analyses, incident management, exercise management, emergency communications, and more, the Preparis platform now includes: 
Customizable business continuity plans (BCPs), continuity of operations plans (COOPs), and emergency operations plans (EOPs) for departments and overall organizations 
Unique plan types and templates for different segments of your organization  
Out-of-the-box plans for department, company, and location created by continuity experts, with flexibility to customize if needed   
Ability to seamlessly integrate plans into other company documents or presentations
Improved editor to work smoothly with Word documents 
Ability to assign specific templates to individual departments within the organization 
When Planner is integrated with Incident Manager and Alerts, your organization will be prepared to address any incident, big or small. 
We hope you'll take a new look at Planner and its customization tools. As always, we want to hear from you – what do you love? What can we do better in our continual effort to help organizations become more resilient? Send us an email anytime. We look forward to hearing from you. 
Regards, 
Jon Bahl 
CEO, Preparis